Optimal Deck for Brother's War Game Day
Hello everyone!  Welcome to standard weekly!
Brothers' War standard season is underway.  New decks and upgraded decks have invigorated the format.  This Saturday at Caffeinated Gamers Game Day event players will have the opportunity to compete for Game Day promo cards and early season bragging rights.
All participants will receive a copy of Recruitment Officer.  Each player in the Top 8 will receive a Braids, Arisen Nightmare promo. Finally, the Game Day event winner will receive a copy of Surge Engine.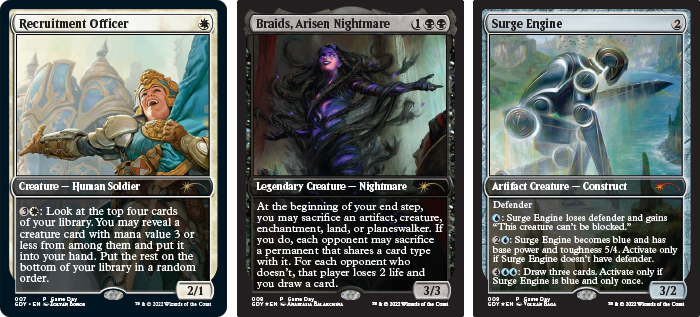 So, what decks should you be ready for at the Game Day Event.  According to data from Untapped.gg, fourteen unique deck types and their variants have seen at least 500 matches played on Arena since the beginning of the Brothers' War season on November 15th.  The most popular decks are Grixis Midrange, Esper Midrange, Azorius Soldiers, and Mono-Black Aggro.  Here is a look at those decks.
GRIXIS MIDRANGE, Untapped.gg Tier List
2 Sheoldred, the Apocalypse
4 Fable of the Mirror-Breaker
1 Eiganjo, Seat of the Empire
1 Sheoldred, the Apocalypse
This updated version of the deck uses several new cards from the Brothers' War.
Phyrexian Fleshgorger gives the deck a new evasive threat.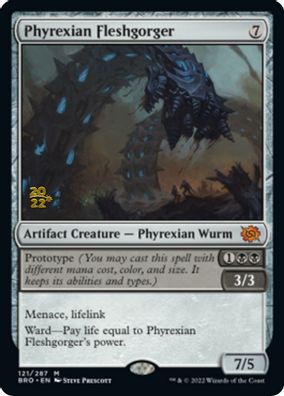 This artifact is a 3/3 or 7/5 phyrexian wurm with lifelink, menace, and ward.  The ward cost is to pay life equal to the power of Phyrexian Fleshgorger.  Its cost depends on the mode you use.  You most likely will cast it for its prototype cost of three mana.  For three mana, you get the 3/3 version.  For seven mana, you get the 7/5 version.  Either way, Phyrexian Fleshgorger has provided a spark to the deck because of its ability to be an evasive threat that provides you will add life when it attacks or blocks.
Next is Go for the Throat.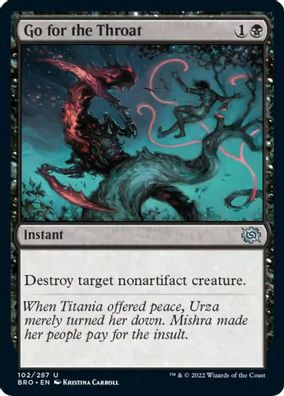 This two-mana removal spell destroys a non-artifact creature.  This is an upgrade over Infernal Grasp because it does not cost you two life to cast the spell.  As long as artifact creatures are a limited part of standard, Go for the Throat is the best creature removal option in standard.
The sideboard has Brotherhood's End.  For three mana, you get a flexible card that either deals three damage to each creature and planeswalker or destroys all artifacts with mana value three or less.  Red has needed conditional board removal and Brotherhood's End provides a useful piece of removal.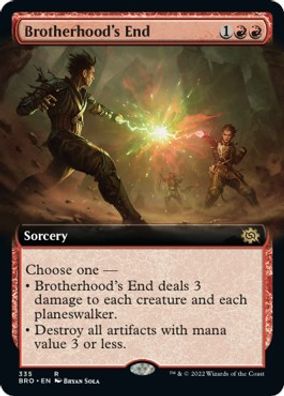 The final new card in this version of the deck is Underground River.  This land gives the deck another blue and black dual land to improve the mana base.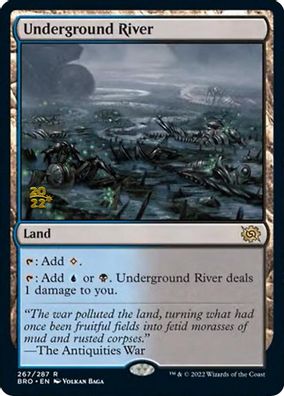 Another successful version of the deck uses several different cards.  Here is that list.
2 Sheoldred, the Apocalypse
4 Fable of the Mirror-Breaker
1 Takenuma, Abandoned Mire
This version of the deck incorporates all the new cards from the first deck with two additional creatures.
First is Evangel of Synthesis.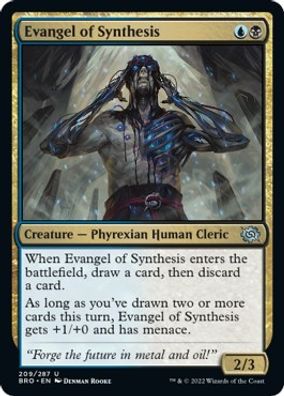 For a blue and black mana, you get a 2/3 Phyrexian human cleric.  When Evangel of Synthesis enters the battlefield, you draw a card and discard a card.  Then on any turn where you have drawn two or more cards, Evangel of Synthesis gets +1/+0 and has menace.  Based on the make of the deck, Evangel of Synthesis will get this bonus regular.
The other new card is Gixian Puppeteer.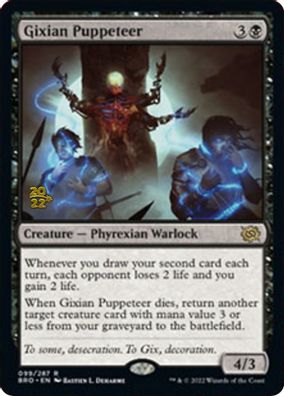 For three colorless and a black mana, you get a 4/3 Phyrexian warlock.  Its abilities provide the deck with a mini version of Sheoldred.  When you draw your second card on any turn, you gain two life and your opponent loses two life.  Finally, when Gixian Puppeteer dies, you may return a targeted creature card with mana value 3 or less from your graveyard to the battlefield.  Each of these abilities gives added value to the deck that helps keep the deck moving.
Next is Esper Midrange.
3 Dennick, Pious Apprentice

3 Sheoldred, the Apocalypse
3 Teferi, Temporal Pilgrim
1 Takenuma, Abandoned Mire
1 Takenuma, Abandoned Mire
Esper decks incorporated Misery's Shadow, Teferi, Temporal Pilgrim, and Go for the Throat.
Misery's Shadow cost two mana for a 2/2 shade.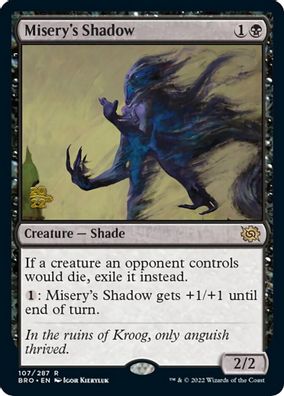 These are ordinary stats for a two-mana creature.  What makes Misery's Shadow a quality inclusion in the deck are its abilities.  First, if an opponent's creature dies it goes to exile instead of the graveyard.  This helps remove troublesome creatures like Tenacious Underdog from the game.  Then you can spend extra mana to give Misery's Shadow +1/+1 for each mana you spend.
Teferi, Temporal Pilgrim I ranked as the best card from the Brothers' War set.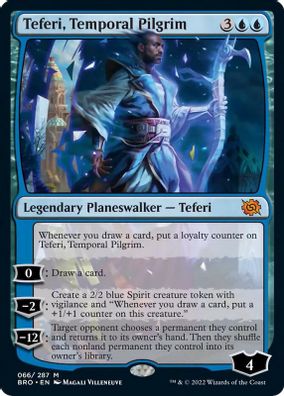 For five mana, you get one of the most powerful planeswalkers ever printed.  In the Raffine deck, it only takes a few turns to ultima Teferi and if you create a creature token you have a powerful attacker.
You should expect Esper to grow in popularity as the format evolves.  There are so many good cards in the colors that it will remain a top-tier deck for the foreseeable future.